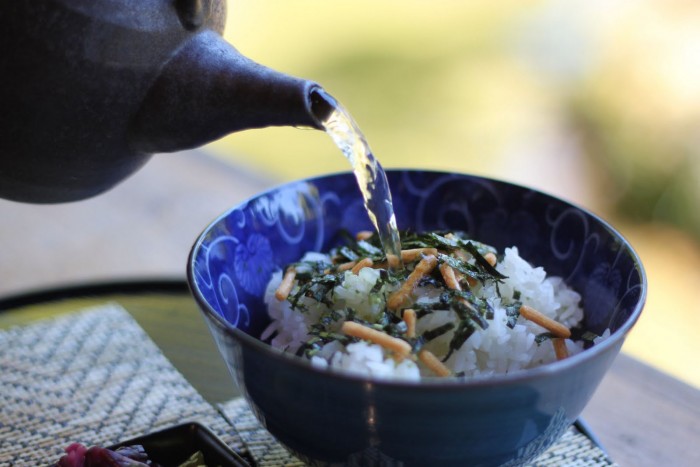 We are finding an ever increasing number of restaurants and chefs using tea to flavour food. With so many different types of tea, the choices are endless for flavours to add to your favourite dishes. Eat your tea On a bustling night in Andy"s bar at Fairmont Pittsburgh, Downtown, bar manager Arun Malik pulls out a flask of simple syrup flavoured with hotel-brand apple spice tea bags he'll use to create a wintry take on an Old Fashioned.
"I'm combining Laird's Applejack — that's the oldest distiller in the United States — with the tea-infused simple syrup, adding a big dash of Angostura bitters, and stirring."
A maraschino cherry for garnish. The Montebello Apple Spice tea bag contains hibiscus petals, apple and spices, no tea leaves.
The Fairmont and its sister hotels in tea-conscious London, Vancouver and Shanghai feature three hotel-brand lines of teas, which are produced for them in partnership with the Metropolitan Tea Co. These are loose leaf, teas in bags, some flavored, and a third line of "wellness herbal teas," or tisanes, made of flowers, fruits and spices.
Sous chef Paula Smagacz draws on Fairmont teas to cure salmon, smoke duck and rub chicken. She chooses a robust Earl Grey breakfast tea to punch up a braising liquid for beef, a recipe she has shared with us. On the breakfast buffet menu, you may find "tea-infused pastry cream in a stuffed brioche" (Earl Grey again) or tea-poached pears (Spicy Chai Energizer) for dessert.
In the health club, Ms. Smagacz leaves her rivals in the dust. "As part of our 'use everything' initiative, when we buy a meat animal we render the fat and combine it with tea and herbs to make soaps. These we use for amenities in the health club and as customer gifts," she revealed.
At Asian-focused Soba in Shadyside, you expect tea-thinking — and you get it. Executive chef Danielle Cain's Burmese salad is a menu classic. The dressing involves shrimp shells, Japanese Sencha green tea, sesame oil, fish sauce, lime juice and chiles. Greens are tossed with cabbage, al dente yellow split peas, tomato and cucumber, sesame seeds, peanuts and Thai chiles. See why you won't make it at home? But it deserves to be a destination salad.